A Brief History of Belvue Kansas
The Beginning of Belvue
On March 14, 1871 the City of Belvue was laid out by Andrew J. Baker and Malcolm Gregory, but their platt was not recorded until May 1, 1871. On that day they deeded to the Belvue Township Company the southeast 40 acres of the land they had purchased from the Atchison, Topeka, & Santa Fe Railroad.
How Belvue got its name:
There is some dispute as to where the name "Belvue" orgininated.
The most likely source of the name is that "Belvue" is from French for "beautiful view". Mrs. Andrew J. Baker is credited with giving the name to the town.
Other versions of the story include the town being named for the daughter of Louis Vieux, who had a ferry crossing the Vermillion River, but it's not known whether or not he had a daughter named Belle. The story says that Belvue's namesake was buried in the old cemetery southeast of the city, but since this cemetery is no longer in existence, there is no way of verifying this.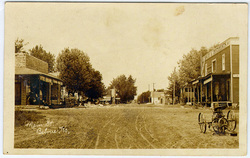 Belvue Post Office Established:
The Post Office was established in Belvue on May 31, 1871. At the time, it served two rural routes. The first Postmaster was George Meens, who earned a salary of $23.08 per year.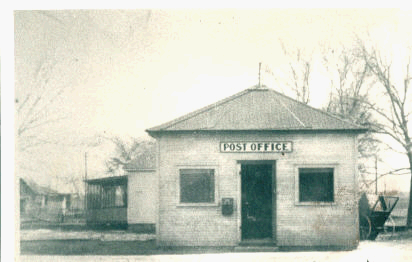 Belvue Newspapers
The Dodger, which was in print from Jan. 1, 1889 to Aug. 6, 1889, had Dr. J.S. Watt as the editor. A year's subscription cost $.50, or as Dr Watt advertised "THE DODGER is a BRIGHT, SPICY WEEKLY NEWSPAPER...costs but ONE CENT PER WEEK." Many people used it for advertising, and it was full of bright gems such as the ones from the July 2, 1889: "Weather very warm." and "Tower Brothers shipped a car load of fine hogs to Kansas City last week."
Dr. Watt also used his newspaper to urge his patients to "make immediate settlement, by cash or bankable note" for what they owed him.
The Belvue Mirror, which was in print from November 18, 1897 to May 12, 1898, was edited by C.M. Dunn. Local merchants used the paper as a means of advertising, and it was much more staid in tone than the Dodger. According to this paper, from the issue of December 23, 1897, "Belvue raised nearly one-half of the entire amount of wheat in Pottawatomie County--42,884 bushels."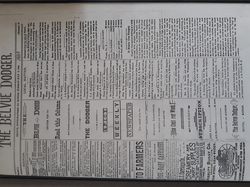 Churches of Belvue
At one time there were four churches in Belvue: two Methodist churches, a Baptist church, and a Presbyterian church.
The Methodist Protestant (MP) church was located at the corner of 2nd and Anderson, which is now the site of the Onyx Collection.
The Presbyterian church, built in 1901 and located at 505 Noble St, was later remodeled into a private home.
There are no particulars known about the Baptist church.
The Methodist Episcopal church, now known as the Belvue United Methodist church, is located on Anderson, between 5th and 6th.
The church itself was built in 1878. In 1955, an addition was added which included Sunday school rooms, restrooms, and a full size basement with kitchen.
In 1968, Mrs. Loreen Weeks Klassen of Topeka, who was born and raised in Belvue, died and left the church a substantial legacy of approximately $10,000-$15,000 a year for as long as it remains a Methodist church.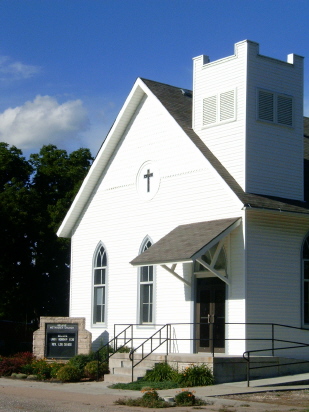 First Mayor and City Council Members
The first city council of Belvue met on May 8, 1913.
Police Judge J.W. Falkner, having previously qualified, administered the oath of office to Mayor-elect E.C. Hooven, then to Councilmen-elect John D. Weeks, O.R. Searl, W.C. Child, H.G. Lambert, and A.W. Eggers.
Several ordinances were acted upon and a regular meeting place was decided upon; The Belvue City Council would meet the first Monday of each month in the director's room of the Belvue State Bank, which became Farmers State Bank in 1925.
S.A. Ross was appointed city clerk and Harold Child the treasurer.
Mayor Hooven appointed Frank Rischer as City Marshall and Street Commissioner.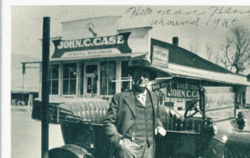 Belvue School and Gymnasium:
The first school in the Belvue area was a one-room school house, established in 1870.
Early teachers included Massey Albright, May Worthing Watt, and Miss Fischer. In 1916, a new building was erected which served as both the grade and high school.
Early in the 1930's, Belvue was unified into the St Marys school district and had to close its high school.
Belvue residents eventually petitioned to leave the St.Marys district when St Marys decided to build a new school. Belvue then joined the Wamego school district.
During the rains of 1951, Belvue built a quonset style gymnasium located on the south side of the school on Anderson and second.
Its construction caused quite a disagreement with some of the area farmers, who felt it was much too expensive.
They urged each other to take action and stop the construction, but it was in vain.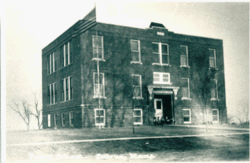 Much of the information on this page was provided by Barbara Sackrider from her paper on "The First 100 Years of Belvue".
Pictures are from the Kansas Historical Society and the Brunkow Family.